Water Damage in Montgomery County
911 Restoration of Montgomery County
Property owners in Montgomery County and surrounding areas know maintaining a home is a big task in itself. It takes a lot of time and commitment to keep your hard-earned estate in top shape. And it certainly doesn't help when an unexpected emergency happens to rain on your parade.
Whether your property undergoes natural disasters, flooding in basement, plumbing problems, or natural wear and tear – headaches are only normal. But headaches don't exist when you have a Fresh Start with 911 Restoration of Montgomery County. Because we believe all property owners deserve a second chance to rebuild the life they want!
Regardless of your property damage situation – we've got you covered and know that disasters aren't one-size-fits-all.
At 911 Montgomery County – we aim for fast and quality service for you to hit the ground running. We specialize in a variety of restoration services from water damage, mold remediation Gaithersburg MD, fire & smoke removal, to sanitization & disinfection.
The way we're able to perform quickly is by serving Montgomery County, Germantown, Silver Spring, Gaithersburg, and all surrounding areas. It's how we're also able to meet our 45-minute guarantee upon every call you make. Because disasters and emergencies have no time to wait to do their destruction.
We stand by your side 24/7/365 days a year anytime you need us!
Our IICRC-certified experts are ready to tackle any restoration emergency
We're equipped with the latest and most advanced technology to restore your property
So for the property owners in Montgomery County, Germantown, Silver Spring, Gaithersburg, and all surrounding areas – we have your back. Join the thousands of happy customers whose worlds were once upside down. You'll soon join them with the Fresh Start they're now living!
Water Damage Restoration
Water damage is one of the leading causes of property disasters. And it certainly doesn't help with the wet season in Montgomery County where houses are more prone to floods. Water damage is common in all properties due to the variety of forms it comes in to destroy your assets.
Whether it be the disheartening experience of flooding in basement, frozen burst pipes, or leaking plumbing problems – it's a nuisance. And if the water damage becomes left untreated – your property can suffer mold damage, structural weakening, and rusting pipes. The last thing you'd want as a property owner is another headache to deal with.
So stay on top of your water damage restoration cleanup by leaving it to the pros. Water gets into the slightest spaces and our experts know exactly where to look. You'll be assured you'll have a property clear of any traces of water.
Sanitization Services
If it's one thing the latest pandemic taught us is the importance of clean spaces. With the rise of pathogens and new viral strains every day – Montgomery County property owners have a bigger responsibility. Causing risk to one's self and others should be no irresponsible excuse to not play their part to society.
We'll help you sanitize your space regardless of the size of the task.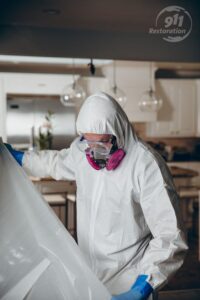 Dirty property structure
Indoor furniture and spaces
Commercial spaces
Any surface within your property
So keep your living and working spaces crystal clean with sanitization & disinfection services in Montgomery County. The team at 911 Restoration of Montgomery County also serves Germantown, Silver Spring, Gaithersburg, and all surrounding areas.
Mold Removal
The growth of mold on walls is a leading byproduct that stems from sources of water damage and high moisture. Mold infestation is a serious problem that shouldn't be overlooked due to how tricky it can be dealing with it. In most cases – you can't see mold growth because these fungi hide in tight and dark spaces you'd never imagine.
It's a reason why there are many property owners across the nation that don't know they have a mold infestation. Imagine living, eating, and sleeping in your own house not knowing there's a huge problem at stake.
If left untreated – you'll be opening yourself to health risks such as:
Asthma
Lung infection
Headaches and dizziness
Organ failure
And in some severe cases – death
Property owners in Montgomery County, Germantown, Silver Spring, Gaithersburg, and all surrounding areas deserve to live in a safe space.
Call the Montgomery backup experts at 911 Restoration of Montgomery County to get your Fresh Start to tackle your mold remediation Montgomery County MD!
Sewage Cleanup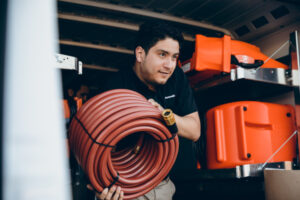 Dealing with sewage backup and cleanup is a mess no Montgomery Property owner wants to deal with. And we know how complicated it can be. Toxic water that's poisonous, sludge that stains, biohazard chemicals unsafe for human touch, to overwhelming putrid smells.
Sewage-related cleanup is stressful. And we know time doesn't wait the moment it happens. Sewage water devours every space it gets into leaving permanent stains.
That's why the team at 911 Restoration of Montgomery County understands the sense of urgency. Our fast and friendly staff will be at the scene of sewage damage within 45 minutes of your call!
Fire Damage
It may seem like the end of the world with fire damage. But it doesn't have to be when you have a Fresh Start. We know how stubborn smoke and stains can be difficult to remediate.
So put the stress away with fire damage. And don't make dealing with blank gunk, stubborn stains, strong odor, or black smoke harder than it already is. 911 Restoration of Montgomery County has the top-notch tools and chemicals to rid fire damage.
At the end of the fire restoration process – you'll walk into a fresh home free of ash, black smoke, and gunk!
Disaster Restoration
Disasters are unforgiving the moment they strike. And they can happen to anyone and anywhere as they don't pick and choose their victims.
That's why we pride ourselves on our 45-minute guarantee in arriving at the scene fast.
We know how overwhelming it can feel when dealing with a disaster. When you work with our IICRC-certified staff at 911 Restoration of Montgomery County – you'll get nothing but a seamless experience. All our restoration experts are trained with the highest standards and knowledge to deliver you a Fresh Start.
Have rest assured of your property disaster with our disaster restoration services in Montgomery County!
Commercial Restoration
Owning commercial property in Montgomery County, Germantown, Silver Spring, Gaithersburg, and all surrounding areas is no joke. Commercial property owners have to deal with bigger problems and bigger stakes. That's why the team at 911 Restoration is ready for any restoration project regardless of size.
We'll stay on top of your commercial property maintenance schedules and will ensure your commercial property is fresh as new!
So run your business and live the life you want with commercial restoration in Montgomery County with a Fresh Start!