Fire & Smoke Damage in Montgomery County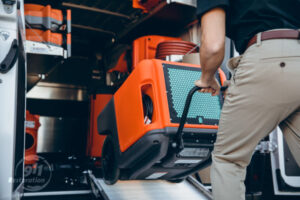 Imagine coming home to your Montgomery County property and seeing it fall to ashes. All because you accidentally left the stovetop on while running errands at the store. The effects of fire damage are devastating and are something no homeowner ever wants to go through. And it only takes one small accident to cause a big emergency you may regret forever.
While you're only human and are allowed to make mistakes – fire disasters and damages are never forgiving. That's why the team at 911 Restoration of Montgomery County understands accidents happen.
When you give our fire restoration company in Montgomery County a call – our expert technicians will arrive within 45 minutes. They'll be ready to help you every step of the way until your property is clear of any signs of fire damage. They arrive quickly because they are within reach to serve Montgomery County, Germantown, Silver Spring, Gaithersburg, and all surrounding areas.
So have no fear of the fire restoration process. You'll have peace of mind with a Fresh Start promise to get your property back to brand new.
The Fire Damage Restoration Process Doesn't Have To Be a Burden
We understand how devastating dealing with disasters and emergencies like fire damage can have a negative impact on your life. The overwhelming stress and fear of not knowing how to clean it can cause distress. And if you don't use the right cleaning chemicals – you risk stubborn stains only to make a bigger mess.
We advise you to consult with a fire damage professional who is certified and qualified in their field. The team at 911 Montgomery County is trained to the highest standards possible. We ensure each of our restoration professionals to deliver you a seamless and worry-free experience.
Don't let black grime, permanent smoke stains, dirty ash, or gunk be a burden to let you live in peace. While these are all difficult byproducts of fire damage – leave it to the experts at 911 Restoration.
The moment our certified fire restoration experts arrive on the scene – they'll ensure the right protocols by ensuring your safety. They'll make sure all causes of the problem are put to cease following a thorough inspection. They'll go over every square inch of your property so nothing gets missed. During the inspection – other vulnerabilities will be kept in mind such as pipe bursts or flooding in basement.
Before proceeding with the fire restoration process – they'll consult with you on the best solution possible for your property. During the cleanup stage – our fire cleanup technicians use the most advanced equipment to ensure quality restoration.
We mean it when we say your experience with fire damage doesn't have to be a burden. In fact – you won't ever have to worry about speaking to your insurance company during these difficult times. Because dealing with your insurance carrier is a headache itself already. So we'll bill your insurance company on behalf of 911 Restoration of Montgomery County.
Call water damage Gaithersburg MD today for us to handle your worries about fire damage restoration. You'll soon be on your way to a Fresh Start!
The Fire Restoration Company in Montgomery County With a Fresh Start
Experiencing property damage from fire and smoke may seem like an impossible task to overcome. We believe in conquering any challenge that comes our way regardless of its size. And we do it with a Fresh Start promise that all of our customers love. It revolves around the idea that a Fresh Start is attainable after experiencing any disaster.
What's unique about 911 Restoration of Montgomery County is our Fresh Start guarantee. There's no other fire restoration company in Montgomery County that can match the same service we deliver.
Access to our help 24/7/365 days a year
A 45-minute guarantee with the arrival at your Montgomery property after your call
IICRC certified professionals to deliver you the best service
Use of state-of-the-art technology to get your property back in top shape
Friendly and knowledgeable staff you can count on anytime
So if you're suffering from fire damage in Montgomery County, Germantown, Silver Spring, Gaithersburg, or surrounding areas – stop worrying. Your worries and stress will go away the moment you give our friendly staff a call. They'll guide you every step of the way to alleviate any questions you may have about the fire restoration process.
911 Restoration of Montgomery County is only within reach for the Fresh Start you're looking for! We promise!