Sanitization & Cleaning Services in Montgomery County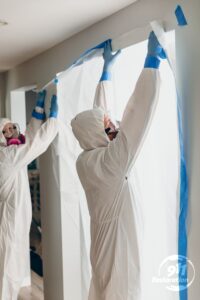 If it's one thing a recent pandemic taught us is the importance of clean and sanitary spaces. With new viruses on the rise left and right – sanitization and disinfection have been important more than ever. It's a responsibility we all need to be accountable for to ensure a safe and healthy lifestyle.
With stricter cleaning protocols – introduces all Montgomery County property owners new challenges. Because the last thing you'd want is to end up in the hospital due to a critical infection. No matter how healthy, rich, or what socioeconomic class you belong in – no human is immoral to disease.
Laziness or having a busy schedule should be no excuse when it comes to sanitization and disinfection as property owners. Why put yourself, your loved ones, and your surrounding's health at risk? It should be everyone's duty to aim for a clean and disinfected space.
The team at 911 Montgomery County understands how busy life can get. That's why our sanitization and disinfection crew will get the job done regardless of the size of the challenge! Our IICRC-certified experts are trained to the highest standards and practices in the industry to make sure you're safe. They also follow CDC and EPA protocols so you know we set the bar high.
Business owners and homeowners in Montgomery County, Germantown, Silver Spring, Gaithersburg, and all surrounding areas have one thing in common. The duty of keeping spaces clean while having the team at 911 Restoration of Montgomery County have their back 24/7.
Get a Fresh Start Like No Other With Sanitization & Disinfection Services
Living in fear if your dwelling is or isn't safe with harmful pathogens isn't something anyone should go through. At 911 Restoration – we believe everyone deserves a Fresh Start in living their best life possible. Because the last thing we'd want you to be is overwhelmed.
So when you work with us as your sanitization and disinfection company in Montgomery County – you'll have rest assured.
Industry experts certified with top-notch education and training
Access to any of our friendly staff 24/7/365 days a year
A 45-minute guarantee arriving at your property once you give us a call
Fast, reliable, and high-quality service you can count on
Only the best and most advanced equipment to keep your property in top shape
A new beginning is always possible for Montgomery County, Germantown, Silver Spring, and Gaithersburg residents. A clean and safe space is only within reach when you call 911 Restoration of Montgomery County today.
The Fresh Start you're looking for is waiting for you!