Water Damage Restoration in Montgomery County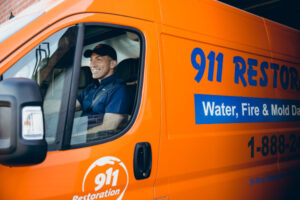 Dealing with water damage is one situation property owners in Montgomery County shouldn't mess around with. The minute water gets in and onto your property is the moment disaster begins. Water makes its way and ruins all your belongings causing stains. It's also a tricky situation because you would never imagine the hidden areas of your property where water hides.
Leave it to the team at 911 Montgomery County to evaporate all traces of water damage on your property. The worst thing you'd want to deal with is mistreating water damage on your own leaving missed wet spots. Doing so puts yourself and your property at risk for further damage like the growth of mold on walls.
When you hire our water damage experts to save the day – you will be assured you're getting top-notch service. Our friendly staff is IICRC-certified to ensure your property is fresh as new.
And because we know time doesn't wait when it comes to water disasters on your property – we act quick. It's a part of our 45-minute guarantee the moment you give us a call. We are able to serve our valued customers because we're only within reach! That means residents in Montgomery County, Germantown, Silver Spring, Gaithersburg, and surrounding areas get fast treatment for water damage emergencies.
When you work with 911 Restoration – you'll soon be on your way to a Fresh Start.
A Montgomery County Water Damage Company Who Truly Cares
We understand how devastating dealing with water damage can have a negative impact on your life. Why should you have to deal with something you didn't ask for? Because accidents are an inevitable part of life – we're here to act as an extra cushion of support.
Water damage comes in all forms. Whether undergoing burst frozen pipes, flooding in basement, leaking plumbing issues, or a rainy storm – you can count on us. And because each customer has a unique water damage problem – means you get a wholesome experience.
Our water damage experts are understanding and speedy technicians who will restore your property back to new in no time. They are able to do so with the best training by being IICRC-certified. It's what makes them leaders in their field. So you're only working with the best in the industry.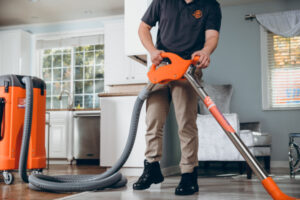 We deliver a stellar water damage restoration process nothing short of perfect. The moment our water damage technicians arrive on the scene – they'll ensure your safety first. Once the root source of the problem is put to a stop – a full detailed inspection will take place. This will help us understand your situation and make sure no other potential problems get missed. The last thing we want is you dealing with the growth of mold on walls due to negligence.
Then we will clear and dry your property using nothing but the latest and most advanced dehumidifying technology. It's how we speed the process to get ready for replacing damaged assets.
Before you know it – you'll soon walk into a home dry and new as it previously was. What was once something you thought was impossible to be restored is fresh as new.
It's a part of our Fresh Start delivery!
New Beginnings Kickoff With a Fresh Start!
We're proud to say we're the only water damage restoration company in Montgomery County that delivers a Fresh Start! What does that mean? Simply we restore your property free of disaster and water damage with the best and fastest service possible.
We've helped many other Montgomery County property owners who were once in your shoes. Now they're living in a safe and healthy space with a smile on their faces!
It's our mission with a Fresh Start mindset to leave the water damage restoration process stress and worry-free. In fact – we deal with your insurance company so you don't have to. Because getting in touch with your insurance company is already a headache on its own. We promise you won't ever have to hear from your insurance company again!!
What else is included in our Fresh Start guarantee?
We promise to be at your property within 45 minutes to ensure reliable service
You have access to use 24/7/365 days a year. We mean it.
You can count on us with the best knowledge, equipment, and service you deserve.
Not only do we care about restoring properties quickly – but we put the people who live in those properties first.
So business and homeowners living in Montgomery County, Germantown, Silver Spring, Gaithersburg, and surrounding areas – have peace of mind.
Call mold remediation Gaithersburg MD today for a no-obligation inspection regarding your water damage in Montgomery County. We'll assure you that we'll be there within the next 45 minutes.
Now that's the beginning of a Fresh Start!
Serving the communities of Germantown, Gaithersburg and surrounding areas.