Disaster Restoration in Montgomery County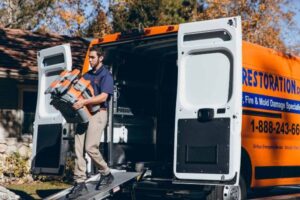 The truth is – disasters are like a sneaky snake. They happen when you least expect them and they bite hard in every aspect possible. Like unexpected growth of mold on walls, sewage backup, or flooding in basement – disasters are not one to mess with. And these catastrophic events can happen to anyone at any moment.
You've worked hard and invested the time for your perfect property in Montgomery County. The last thing any Montgomery County property owner wants to see is their property damaged by emergency disasters. That's why the 911 Montgomery County team values your time and assets by providing the finest restoration services.
Disaster comes in a variety of forms which is why we offer a mixture of restoration services to fix your property troubles.
Water damage cleanup
Commercial property restoration
Growth of mold on walls remediation
Fire & smoke removal
Sewage related cleanup
Don't let disaster on your beautiful Montgomery County property bring you down in living your best life. 911 Restoration is here at your service within 45 minutes of your first call! It's a part of our Fresh Start guarantee for you to hit the ground running.
Because disasters can also happen anywhere – we do our best to make our restoration services accessible to all our customers. Our disaster restoration services cover Montgomery County, Germantown, Silver Spring, Gaithersburg, and all surrounding areas.
You're only within reach of getting the Fresh Start you deserve!
The Montgomery County Disaster Restoration Company With a Fresh Start
We know time is key when it comes to remediating a disaster on your property. The last thing we'd want is you having to deal with another can of worms. Our goal is to get your property back to running normally so you can live your best life.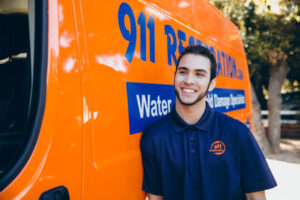 And it all begins with the Fresh Start each customer gets when working with 911 Restoration of Montgomery County.
Personalized service and care for each customer
A 45-minute guarantee of arriving at the scene after your call
Accessibility to our disaster restoration services 24/7/365 days a year
Fast, reliable, and quality service unmatched in the industry
An IICRC-certified team to provide you the best disaster restoration solutions
Our Fresh Start guarantee is how we deliver our bottom-line so you can stay on top of your disaster restoration.
The moment our disaster restoration experts arrive at your property – they'll ensure your safety first. They'll be looking to make sure the root cause of the problem is at a stop. Once it's safe to move forward – a thorough inspection will take place to understand what's at stake.
They'll go over all questions alongside the best and most practical solution to fix your disaster on time. Before you know it – you'll be walking home to a brand new property like before.
You'll be hiring the best disaster restoration experts who are IICRC-certified in their field. This ensures you receive nothing but the highest quality service possible. Our fully-trained experts won't miss any spots because they know exactly what to look for in the disaster restoration process.
We believe all customers we work with are capable of achieving a Fresh Start all over again. Even if it may not seem like it – we have your back every step of the way. Because with 911 Restoration of Montgomery County – we dare to tackle the impossible with a Fresh Start.
Why 911 Restoration of Montgomery County For Disaster Restoration?
There won't be one single moment filled with stress or worry. Be assured you can leave that to us to deal with. In fact – you won't have to ever deal with your insurance company ever again. Because we know how much of a hassle the long wait times on the phone with insurance companies can be.
911 Restoration of Montgomery County is unique in a sense of the service you get. We have the resources of a national brand alongside the service of a local business that cares about its customers.
Leave your concerns aside and call water damage Gaithersburg MD today for a free consultation where we'll guide you to a fresh property. Our friendly staff will be there 24/7/365 days a year anytime you need us.
What's one thing all Montgomery County, Germantown, Silver Spring, Gaithersburg, and all surrounding areas have in common? Luckily – the residents of all these areas have the 911 Restoration of Montgomery County behind their back at all times.
It all begins with a Fresh Start!