Mold in an RV – Who Do I Call For That?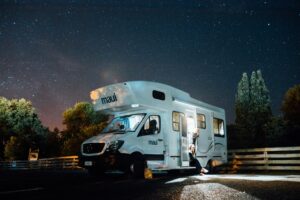 Mold growth should not go undetected until it is too late. Mold spores are a danger to everyone's health, but they are especially harmful to small children and the elderly. If it develops and spreads throughout your RV, it will not only damage your respiratory system but also seriously affect your RV's value.
RV owners are drawn to the lifestyle by extended road journeys and the opportunity to explore the many attractions that can be found along the way. White fungus in a vehicle, must in the tent, and mold in an RV are all issues that can arise regardless of the surrounding area. It does not even depend on the amount of usage.
Whether you are a full-time RVer or just a weekend explorer, mold can pop up in your RV just like that. If you have detected any initial or clear signs of mold then they should not be ignored. This is why you should get rid of it as soon as possible and call a professional mold remediation service.
Here you will learn about what causes mold in an RV, how to prevent, detect and deal with it safely:
Causes and Symptoms of Mold in an RV
Because RVs are typically closed and parked for a prolonged period, they can act as an incubator allowing mold spores to flourish faster in their space. When a recreational vehicle (RV) is kept in damp conditions, moisture can collect inside and contribute to mold growth. Though RVs being stored is a problem, it is not the only one. Mold growth may occur in your RV if a pipe or the roof has a leak.
So, how can you tell if you have a mold problem in your RV? The fragrance gives you your first hint. If your RV has a musty, musty smell, you may have a mold issue. Look for black, green, blue, or white stains on your RV's walls or flooring to identify if it's a mold.
How Can You Prevent Mold Growth in Your RV
The best method to combat mold and mildew is to prevent them from growing in the first place. Any of these problems in your RV can be remedied by thoroughly cleaning your vehicle and installing an air purifier. By doing this, mold spores will not be inhaled by you and your loved ones.
1.   Regularly Check Your RV for Problems
Before you hit the road, make sure your RV is in tip-top shape. Check for leaks and cracks in your pipes, roof, and ceiling to ensure that no moisture may get inside. You must address any issues right away and conduct routine maintenance on your RV at least twice a year.
2.   Store Your RV Properly
When storing your car for the winter, be sure to use a cover that will keep it dry while yet allowing it to breathe and expel water vapor. The easiest way to avoid mold and mildew growth is to use specialized RV tarps, which can be quite pricey
3.   Use Dehumidifier When Needed
Dehumidifiers can reduce the amount of moisture in the air, which keeps mold at bay. You can also use Desiccant dehumidifies, which use specific crystals to keep the moisture away but do not require electricity.
4.   Ensure Good and Sufficient Ventilation
Condensation that never dries can lead to mold and mildew growth. Vents and windows can be opened to provide fresh air into your RV. In addition, mold and mildew thrive in poorly ventilated bathrooms. To make sure the bathroom is thoroughly dry after a shower, open all doors and windows and turn on a fan or vent.
5.   Make Use of a Ceiling Fan
Fans circulate the air in your RV, preventing moisture from settling. Cooler weather fans with space heaters help prevent condensation from accumulating overnight when the temperature outside drops. Wipe off any moisture that appears on your RV's interior surfaces with a dry cloth as soon as you notice it.
6.   Use a Range Fan While Cooking
The heat and moisture generated while cooking in a closed space may cause significant health risks. And the vapors may reach the roof and walls of the interior, condensing and moistening the place – promoting mold growth.
7.   Keep Your Bathroom Properly Ventilated
Bathrooms are ideal breeding grounds for mold. When the door is closed, there is no air passing through it, which most people want. Mold development can be a severe problem if the interior of the vehicle becomes wet. Open the vent after a shower to let the air in and dry the area. Keeping the door open will help the space dry out completely.
8.   Keep Mesh Under You Mattress
Mold can also grow behind your RV mattress, which is a typical hiding location. Lack of air circulation combined with condensation from body heat can make the area under your mattress a good place for mold to grow. There are dry mesh products on the market that go underneath your mattress and operate as an open airway. These air-permeable mesh materials help keep mold at bay by circulating the air around them.
Mold Remediation with 911 Restoration Of Montgomery County
Although it's difficult for you to believe that these small spores could be extremely harmful, and you might think that a big dose of bleach would fix the problem. But the truth is that mold can cause serious damage to your RV and your health. There is a lot of training and equipment involved in mold removal, and it can be a pricey process if the mold remediation service you pick doesn't do a good job of eliminating the mold and its causes.
If you are looking for reliable mold removal services to resolve all your concerns, look no further than us! 911 Restoration of Montgomery County takes mold very seriously, and we deal with it swiftly. To understand more about the mold removal process, give us a call now.