Smoke Damage Restoration after Wildfires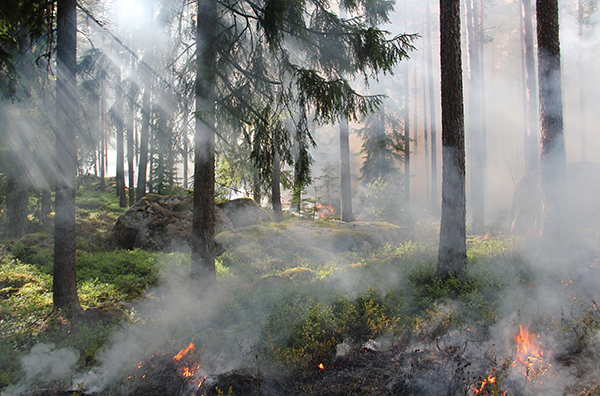 If you live in a forest area, chances are you have seen wildfires very closely. A wildfire can cause extreme damage to homes or any content that come in its way. However, if something is left after a wildfire has struck, the after-effect left behind becomes further damaging.
From the interiors and fixtures like drapes and carpets to furniture – everything may become severely damaged after a wildfire has struck and may require you to take immediate damage control action to save what's left.

2 Types of After Effect Damage of Wildfire
However, while these external things and materials can be taken away, restored, or replaced altogether, the interiors of your home cannot. For instance, the after-effects of a wildfire are of two specific types:
The visible soot

The invisible odor
Cleaning the Place after Wildfire
Cleaning out and restoring the place after a wildfire can be challenging. After all, how the cleaning agents will interact with the fire damage depends on what caused the fire. As in this case, it is wildfire. It is in your favor to let a professional take it up from there.
911 Restoration of Montogomery County takes its fire and smoke damage restoration seriously. With more than 25 wildfires spread across the county, enveloping the homes – our professional restoration team carries all the knowledge and expertise to restore the balance.
Hence, here we will share with you some emergency steps that you need to take right after the fire has been put out. Moreover, you'll learn the process of how professional smoke damage restoration service providers like us work to remove the damage.
Let's get started!
First Things First
Even the smallest of fires can cause a lot of damage. Therefore, the repairs and restorations can be costly. In fact, the repairs might be highly compromising in case of smoke damage caused by wildfires.
Given that you might not even have a place to stay over the restoration period, it is essential to inform the responsible authorities. Everyone should be informed, from homeowner insurance to fire disaster insurance and restoration service providers.
A professional fire restorer will help clear the mess of things that can no longer be restored. Moreover, they will help you clean and put things in place that can be restored or refurbished. In addition, insurance may provide you with a temporary living arrangement.
Steps To Prevent Further Damage
Whether you are planning on working yourself or hiring a professional to do the restoration and cleaning up for you, here are some steps that need to be taken to prevent further damage to the things and materials left behind after a fire.
Smoke leaves behind soot that can easily get absorbed in fabrics. Hence, try to let professionals handle the cleaning while you:
Open the windows and doors for ventilation.
Change the furnace filters.
Cover the clean stuff of your home with plastic sheets.
Use fans to clear out the smoke and keep every room naturally ventilated.
Stay alert for water damage and use aluminum foil to prevent rust.
Removing Soot from the House
Soot is easily absorbed and very resistant to standard cleaning properties. Therefore, it is better for everybody involved that professional fire and some damage restoration service providers are the ones to take a look at it and handle it at best.
Soot is also very oily so that it can stain your drapes, carpets, clothing, and other fabric items. Therefore, you should let the soot dry and then use a heavy-duty vacuum to suck it off the fabric. After this, you can give out your stuff in dry cleaning.
Moreover, allow the professionals to cover cleared patches with plastic sheets. This will prevent dripping soot all over the place before it is cleared out and causes further damage. After the soot has been cleared out, the next step in line is smoke odor removal.
Clearing Out the Unpleasant Odor
Smoke damage, soot, and burning up of things leave behind a very unpleasant odor. In fact, the stink is so strong that it doesn't go away quickly and can disgust the place for long enough if not addressed rightfully.
However, smoke odor removal can be less challenging than usual if you have successfully cleaned up the soot and naturally ventilated your home. Yet still, professional fire restoration service providers would use deodorizing agents to work it out perfectly.
Moreover, it is also essential to consider that it might only work as a temporary solution to smoke damage odor if you don't continue to ventilate and deodorize your place. Maintenance is of vital importance for removing smoke damage odor from the household.
In Conclusion,
To effectively restore your household and remove any soot or odor because of the fire and smoke damage, it is necessary to use appropriate cleaning agents. As these chemicals can be dangerous to use on your own, it is beneficial if you simply hand them over to a professional.
At 911 Restoration in Montogomery County, we know how stubborn smoke and stains can be challenging to remediate. So put the stress away with fire damage. And don't make dealing with blank gunk, stubborn stains, pungent odor, or black smoke harder than it already is.